The News & Notes
THE TOP SPOT:
For the first time in his career, Joey Logano is ranked first in the NASCAR Sprint Cup Series point standings heading into this weekend's Bank of America 500 at Charlotte Motor Speedway. Logano's lead is six points over Kyle Busch after the first race in the Contender Round.

WHAT AN AVERAGE:
After the first four races of the NASCAR Chase for the Sprint Cup, Logano has a remarkable average finishing position of 2.5. Even more impressive, Logano has started two of those four races outside of the top 15, meaning he has moved to the front in each of the races. Logano's finishes during the Chase include two wins (New Hampshire and Kansas) and two fourth-place finishes.

ANOTHER BUSY CHARLOTTE WEEK:
As is typical with Charlotte race week action, Logano will not only be busy at the track, but also outside of it. Logano is participating in several initiatives throughout the week, including a meet and greet with 60 representatives of Western Star Trucks, a new Team Penske partner based in Australia. Logano is also participating in a go-kart event at the Go-Pro Motorplex for Pit Stops for Poverty.
THE STATS CONTINUE TO PILE UP:
The career-best 2014 season for Logano continued with his victory at Kansas Speedway last weekend. The win put him in a tie with teammate Brad Keselowski for the most wins in the series this year with five apiece. After 30 races, Logano also leads all drivers in top-five finishes (14), top-10 results (19) and average running position (8.9). Logano has also made more "quality passes" than any other driver and has spent 86.1 percent of his laps run this year inside the top 15, also best in the series. His 107 driver rating is the best of his career and ranks third in the series, along with his 916 laps led, thus far, this season.
A DIFFERENT LOOK TO THE NO. 22:
Logano's No. 22 Ford Fusion will carry a special Pennzoil Platinum paint scheme on Saturday night. The special design, celebrating the 2014 launch of Pennzoil Platinum® and Pennzoil Ultra Platinum™ Full Synthetic motor oils with PurePlus™ Technology. PurePlus™ Technology is a patented, revolutionary process that converts pure natural gas into a first-of-its-kind, high-quality full synthetic base oil. Logano ran a special scheme on the No. 22 Ford at Charlotte in May and another new look this weekend.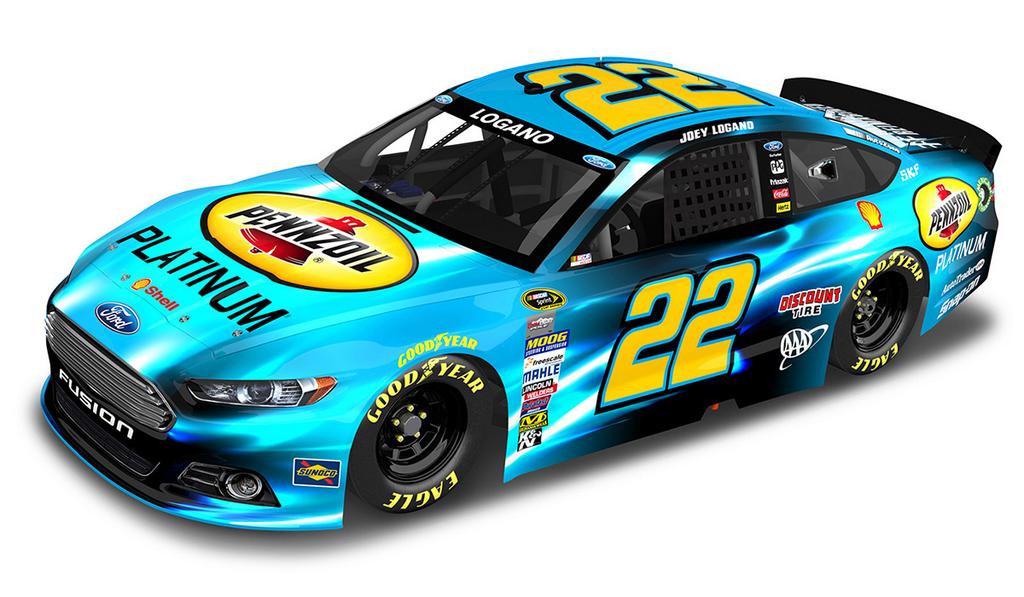 The Car
The No. 22 Pennzoil Platinum Ford Fusion
Primary Chassis:
PRS-916
Last Raced: Michigan 2 (finished 3rd)
Backup Chassis:
PRS-901
Last Raced: Backup at Kansas
The Q & A
Quote:WHILE IT'S TOUGH TO PUT TOO MUCH INTO IT, HOW DOES IT FEEL TO BE LEADING THE SPRINT CUP SERIES POINT STANDINGS AT THIS POINT OF THE SEASON?

"With the Chase system that we have in place right now, it is tough to put too much stock into it, but it's a big thing for me and the team and this year. It shows the work and effort that we've put into not only the whole year, but also thus far in the Chase. The thing about it is that we haven't really changed anything or done anything different than we've been doing all year. I think that shows in the results and in the fact that we are riding a steak of 10 finishes inside the top six in 10 of our last 11 races. We are just doing what we've been doing in the regular season. And it's paying off by winning races and leading the points."



YOU WOULD HAVE A HEALTHY LEAD IN THE POINTS UNDER THE OLD CHASE SYSTEM. DOES THAT MAKE YOU WISH WE STILL HAD THE OLD SYSTEM?



"I mean when you are in the position that we are in, of course, you would love to see the old system still. But that's not the system we are playing under this year, so you can't really look too much into it. I think it just shows performance. Sure right now, we would like to see the points not reset, but they are. They will reset again after Talladega. And by that point, we could be eighth. You just don't worry about it. It's nice to look at and its good for the guys and their moral, but we just want to look one weekend at a time and one race at a time. Our ultimate goal is to win this championship, and we will do what we need to do to win it in the system that we have."