10-30-2010, 07:14 PM
jdneel222
Joey Logano Fan


Posts: 67

Joined: Oct 2010
Reputation: 0
hey
Hey I wanted to introduce myself.

My name is David, I turned 30 in August. I am a minister in the United Methodist Church. I love Nascar and collecting diecast. I've made many friends on forums. So maybe we can become friends. I live in east Tennessee just outside of Bristol, and I was at Joey's fan day back in May.
10-30-2010, 07:18 PM
Jean
Administrator


Posts: 3,967

Joined: Aug 2008
Reputation: 15
RE: hey
Welcome David!! It's great to have you here, there are tons of awesome fans here on the forum, you will enjoy yourself here
10-30-2010, 09:34 PM
RE: hey
Welcome enjoy the site!
10-31-2010, 12:32 PM
derekmcc
True Joey Logano Fan


Posts: 608

Joined: Sep 2008
Reputation: 0
RE: hey
Welcome aboard.

here's acouple of my diecasts
---
http://www.kkracingcollectibles.com/

Take a look at my custom Diecasts (Link Below)

http://public.fotki.com/derekmcc/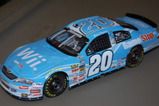 10-31-2010, 10:47 PM
RE: hey
Welcome and im Methodist too!!! looking forward to future post!
---
Joey Logano

New year, New Crew Chief!
11-01-2010, 04:01 PM
Vermont#1Fan
Ultimate Joey Logano Fan


Posts: 1,045

Joined: May 2010
Reputation: 4
RE: hey
Welcome David, great to have new members, keeps it interesting. gws
11-01-2010, 11:18 PM
Priyanka
Logano, Edwards & Kahne Fan


Posts: 1,241

Joined: Feb 2009
Reputation: 5
RE: hey
Welcome to the forum, David! We have lots of fans who collect diecasts. Glad to have another :]