01-24-2009, 02:02 AM
emily89
Member


Posts: 2

Joined: Jan 2009
Reputation: 0
get to know me
[/size][size=small]hi i am emily, i am from florida i'm 19 i have been a nascar fan for 5 years in june. i have been a fan of joeys since his first win in the nationwide. i knew he was going to be the next thing. i like horses, dancing and hanging out with my best friend.
01-24-2009, 08:46 AM
derekmcc
True Joey Logano Fan


Posts: 608

Joined: Sep 2008
Reputation: 0
RE: get to know me
Welcome Aboard!
---
http://www.kkracingcollectibles.com/

Take a look at my custom Diecasts (Link Below)

http://public.fotki.com/derekmcc/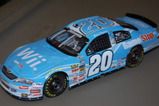 01-24-2009, 09:46 AM
RE: get to know me
welcome to the board
---