Why was Kyle driving JL's #20 in 2/13 Cup Practice
02-13-2009, 06:12 PM
Why was Kyle driving JL's #20 in 2/13 Cup Practice
I was at a local pub and the music was loud but I saw driving around not that fast then I saw him on the Pit Box. Next thing I know Kyle Bush is taking 10-15 laps around in the #20.

Next thing I see is in the garage and Kyle in car with Denny and JL looking in talking about a whole bunch of stuff.

School me.
What was going on?
---
Mike Hedrick is PIT BOSS for http://www.PitCrewBarbeque.com covering NASCAR Tailgating Inside & Outside the Tracks. For more got to http://www.MikeHedrick.com
02-13-2009, 06:30 PM
RE: Why was Kyle driving JL's #20 in 2/13 Cup Practice
Busch helps Logano understand car during practice
DAYTONA BEACH, Fla. (AP)—Kyle Busch hopped into teammate Joey Logano's car during Daytona 500 practice Friday, presumably to help the rookie dial-in his No. 20 Toyota.
The two both took turns in the Joe Gibbs Racing entry, but combined ran just 22 laps in the only practice session of the day at Daytona International Speedway. The 18-year-old Logano has had a roller-coaster Speedweeks, wrecking last week and scraping the wall in an earlier practice session, but rebounding with a fourth-place run in one of Thursday's qualifying races.
Kevin Harvick, winner of the 2007 race, scraped the wall late in the session and will go to a backup car. He'll now race the same car he drove to victory in last week's Budweiser Shootout.
Only 37 drivers participated in the practice, which was paced by Jamie McMurray.
Busch, who won the second of Thursday's qualifying races, did not turn any laps in his own Toyota. Aric Almirola, Denny Hamlin, Scott Speed, Jeremy Mayfield and Scott Riggs also took the day off.
"It's pretty common practice during Speedweeks," said Mike Ford, Hamlin's crew chief. "It's time to start check-listing your car and take that time to work at a relaxed pace and make sure that things are right for the 500. You don't want to get into a situation where you put a lot of miles on your race engine."
Robby Gordon had the second fastest car in the one-hour practice session. Paul Menard, AJ Allmendinger and Greg Biffle rounded out the top five.
Jeff Gordon, winner of the first qualifying race on Thursday, was sixth. Daytona 500 pole-sitter Martin Truex Jr. was 25th.
Dale Earnhardt Jr. was 35th out of 37 drivers, one spot below two-time series champion Tony Stewart
http://sports.yahoo.com/nascar/news;_ylt...&type=lgns
---
02-13-2009, 06:34 PM
derekmcc
True Joey Logano Fan


Posts: 608

Joined: Sep 2008
Reputation: 0
RE: Why was Kyle driving JL's #20 in 2/13 Cup Practice
all's good if it helps
---
http://www.kkracingcollectibles.com/

Take a look at my custom Diecasts (Link Below)

http://public.fotki.com/derekmcc/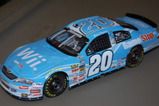 02-13-2009, 06:44 PM
RE: Why was Kyle driving JL's #20 in 2/13 Cup Practice
i watched most of it today..after Kyle brought it into the garage he, Joey, Denny & Zippy were discussing the cars handling..i think it will help Joey in the long run to have Kyle & Denny helping him out
---
02-15-2009, 04:04 AM
RE: Why was Kyle driving JL's #20 in 2/13 Cup Practice
I head it was handling i think cause they said he said he had to turn the wheel right so (I'am a kb fan and joey and denny ) so thankx kyle
__________________________________
*^*oficially think carl edwards is a huge rear end*^*