01-23-2009, 11:54 PM
RixFan16
Member


Posts: 3

Joined: Jan 2009
Reputation: 0
What Up Everybody!
Hey, my name is Ryan. I am from VA, about 90 min from Martinsville. I actually have season ticks there. I am a long time Tony Stewart fan and will continue supporting him as my fav driver, but I am also planning on rooting for Joey as well. I am a member of the Joey Fan Club and want to keep up with as much info on him as I can. I first heard of Joey when JG signed him and Marc Davis to developmental deals. From what I can tell, both should be great drivers in the near future. So, that's about it for me. This place looks great and I hope to meet a lot of Joey fans! Thanks
01-24-2009, 12:15 AM
Jean
Administrator


Posts: 3,967

Joined: Aug 2008
Reputation: 15
RE: What Up Everybody!
Hey RixFan16, Glad to have you here! You will find that this is a great place to hangout! There are alot of great people here!

Yeah I also hope that both Marc Davis and Joey Logano are successful!
01-24-2009, 08:50 AM
derekmcc
True Joey Logano Fan


Posts: 608

Joined: Sep 2008
Reputation: 0
RE: What Up Everybody!
Welcome Aboard Ryan!
---
http://www.kkracingcollectibles.com/

Take a look at my custom Diecasts (Link Below)

http://public.fotki.com/derekmcc/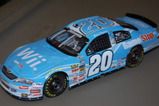 01-24-2009, 09:44 AM
RE: What Up Everybody!
welcome to the board
---