Pictures and Videos Section Organization
05-25-2009, 06:58 AM
Jean
Administrator


Posts: 3,967

Joined: Aug 2008
Reputation: 15
Pictures and Videos Section Organization
I was going off-topic before on the other thread called "Nationwide/Sprint Cup Talk Threads", so I thought I better copy/paste what I wrote and put it in a separate discussion, otherwise the other one was going to get too confusing
after the end of tread this one... if you read it all... I think you will understand, hehe.
Anyways here is what I was going to say....
I think that the "Pictures and Videos" Section, needs some serious work. I think out of all the sections, this section is the hardest to follow for everyone, and if someone is looking for a specific video, unless you are using the "search" function on this website, it is very hard to find what you are looking for.
First a note about "pictures", We already have a picture section via the Photo Gallery, so perhaps we could drop the "Pictures" part out of it, and if members have photos they wish to share they can post them on one of the other joey sections. Which I think is better anyways... Because it Add's more to the other conversations... especially if someone took photos from a specific race... they can show us their own photos in that thread which is more relevant.
Now bare in mind... that NASCAR is very friendly with people posting live race broadcasts and general clips of NASCAR on youtube, so it is privilege to be able to post the videos of Joey Logano, but that privilege in the future could always be taken away, but I don't see that happening. I know that other sports such as Baseball, most of the time request youtube to remove the videos. I have never seen NASCAR complain about people uploading videos to youtube, or remove the videos for an infringement of trademark. They are okay with it from what I have seen. Which is why I've done it for us here to enjoy, and will continue to upload videos so long as NASCAR continues to allow fans to upload race clips to youtube.
What I am thinking here is to Organize the section in a section called "Joey Logano Video Archive". There are several approaches to this... each has their own Pros and Cons.
First of all to start off With I definitely think there should be a Sprint Cup Section, and a Separate Nationwide Section. An "other" section could cover the other series he has run. And then we would need a "general" video section. Because... not all videos are related to the sprint cup or nationwide series, etc.... Example... that Joey Logano Next video done by ESPN.
We could separate things by year... or be specific in each section....like "qualifying", or "pre-race interviews".
But... now that I think about it... the more organized the "video" section would get. While it would be easier to locate videos... it would totally dominate the forum, and take up way too much space.
Hummm, since I have been inserting the videos into the Race Threads... which are the videos that are relevant to the discussion.... should I follow suit with my suggestion with the picture section in the title? And totally remove the "Pictures and Videos Section" from the forum?
Sorry for the long post.... I was just rambling away my ideas as they came.... I think I've just come full circle with it too. So I guess what I am thinking is... with a more organized Race Thread Section, that we are discussing. It might be best to put the photos in the Race threads themselves, as well as the Videos.
What do you guys think? Or can there be still be a way to create that Video Archive Section in the forum?
05-25-2009, 12:00 PM
derekmcc
True Joey Logano Fan


Posts: 608

Joined: Sep 2008
Reputation: 0
RE: Pictures and Videos Section Organization
WOW! that would have taken me all day to type LOL!!

I think the more the forum is divided up the easier it would be to find things.
I use the "Veiw New Posts " Feature to get caught up on new post.
Jean anything you decide to do it will be Great!
---
http://www.kkracingcollectibles.com/

Take a look at my custom Diecasts (Link Below)

http://public.fotki.com/derekmcc/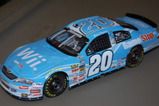 05-25-2009, 12:54 PM
Priyanka
Logano, Edwards & Kahne Fan


Posts: 1,241

Joined: Feb 2009
Reputation: 5
RE: Pictures and Videos Section Organization
I agree with Derek. I also use the View New Posts to see what I've missed.
I think that some division would be great, but too much would be a hassle and take too much space up.
How about just posting videos and photos into the Race Talk Threads such as: "Lowe's Nationwide Race" thread. And when you post a comment on that thread, you can title it by the name of the video. That way, if you want to know anything about the race, it's all in that one thread. And, the pictures, pre-race interviews, qualifying videos, etc will all be located in one place and add to the conversation on the thread!
It's really all up to you, Jean. You will be having to do the most work and if I were you, I'd look for the most convenient way for you to organize everything.