01-24-2009, 10:31 AM
(This post was last modified: 01-24-2009 10:32 AM by Steamer.)
Steamer
Member


Posts: 2

Joined: Jan 2009
Reputation: 0
North Carolina Fan
Hello everyone!
Live near Lowe's speedway and have been a NASCAR fan for years. How long...well was in Daytona back in 1979...that's how long.
Watching Joey Logano is watching the new evolution of NASCAR. He is young, fresh and has the talent to win races. Kind of like when Jeff Gordon was new, except I personally think that Joey is much more personable than Jeff was at the beginning. He's genuine, and has talent to boot, what more would you want??
Already became a member of his group on Facebook, that's how I found this site.
01-24-2009, 10:49 AM
RE: North Carolina Fan
welcome to the board
---
01-24-2009, 11:07 AM
derekmcc
True Joey Logano Fan


Posts: 608

Joined: Sep 2008
Reputation: 0
RE: North Carolina Fan
Welcome Aboard!
---
http://www.kkracingcollectibles.com/

Take a look at my custom Diecasts (Link Below)

http://public.fotki.com/derekmcc/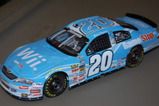 01-24-2009, 05:31 PM
Jean
Administrator


Posts: 3,967

Joined: Aug 2008
Reputation: 15
RE: North Carolina Fan
Hey Steamer, it's great to have you here! Welcome to the board!