01-30-2009, 09:51 PM
Tim
Member


Posts: 1

Joined: Jan 2009
Reputation: 0
New Here
Hey guys, found out about this site from FB, hopped right on over to see what the buzz was about. I live in Albany, GA. and follow dirt track/ late model racing. Spend many Sat. nights at the U.S. 19 racetrack. A lot of folks I hang with knew Joey when he was coming up through the circuit, said he is gonna be something to watch. Go get um' Joey. Have a good 09' season!!!
01-30-2009, 10:18 PM
Jean
Administrator


Posts: 3,967

Joined: Aug 2008
Reputation: 15
RE: New Here
Hey Tim, glad you found you're way here, and it's great to have you here!
01-31-2009, 06:08 AM
derekmcc
True Joey Logano Fan


Posts: 608

Joined: Sep 2008
Reputation: 0
RE: New Here
Welcome Aboard Tim!
---
http://www.kkracingcollectibles.com/

Take a look at my custom Diecasts (Link Below)

http://public.fotki.com/derekmcc/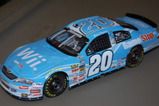 01-31-2009, 11:40 AM
RE: New Here
welcome to the board
---