09-19-2009, 04:00 AM
My Idea for the chase
I just read an article about how if there is no drama in the final race then the play offs (The Chase) needs to be changed. Well we all know that there are chase haters but one thing is for sure if you thought there was no drama last year with Jimmie Johnson needing a 17th place finish to clinch at Homestead and just being able to ride around well hey at least he didn't clinch a month before like in the old format. Now about riding around at 17th, last year going into homestead Jimmie Johnson only needed to finish 17th or better to clinch the title, now as long as he stayed out of trouble everything was going to be fine he could ride around and not be bothered. How do we fix that? simple..Switch the Pepsi 400 with the ford 400!...Lets see Jimmie try and escape now! No more riding around or hiding, there's no place to hide at Daytona!! Imagine knowing that yes Jimmie needs 17th or better but what about the possibility of "the big one" can Jimmie avoid it and what about the rest of the chase field? what if the big one happens and the chase driver who is 5th going into the race comes out and wins the championship! To me starting the season at Daytona and ending it at Daytona just makes sense and what better way to crown Nascar's champion then at their most honored track.
---
09-20-2009, 01:35 PM
Jean
Administrator


Posts: 3,967

Joined: Aug 2008
Reputation: 15
RE: My Idea for the chase
Start at Daytona, and end at Daytona, I like it! But then... take you have to move Talladega out of the chase.
09-20-2009, 01:58 PM
rawrgoeskayla
Hamlin & Logano Fan


Posts: 836

Joined: Feb 2009
Reputation: 0
RE: My Idea for the chase
Thats not a bad idea... not a bad idea at all.
09-22-2009, 02:19 PM
RE: My Idea for the chase
Makes sense to do it that way for sure but then again I don't think the Daytona race should be won due to rain either...any other race is fine except for Daytona and the Chase races. Rain wins at Daytona are like giving the Superbowl Championship away to the team closest to their goal line when time runs out at a tie score! Basically what I'm saying is what the hell do I know-it is what it is and I'd watch it regardless.
---
LuvnLogano20
"Life isn't about how to survive the storm, but how to dance in the rain."
09-22-2009, 06:22 PM
derekmcc
True Joey Logano Fan


Posts: 608

Joined: Sep 2008
Reputation: 0
RE: My Idea for the chase
I like it the way it is.

if they have EARNED the points all year then they should beable to ride around and finish 17th.

why have points at all if your going to give the championship to a driver that win the last race?
---
http://www.kkracingcollectibles.com/

Take a look at my custom Diecasts (Link Below)

http://public.fotki.com/derekmcc/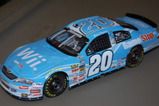 09-23-2009, 07:04 PM
rawrgoeskayla
Hamlin & Logano Fan


Posts: 836

Joined: Feb 2009
Reputation: 0
RE: My Idea for the chase
Thats a good point also. I agree with both of you in a way.