Logano crashes for a good cause in week of good deeds
09-14-2009, 01:39 PM
Jean
Administrator


Posts: 3,967

Joined: Aug 2008
Reputation: 15
Logano crashes for a good cause in week of good deeds
Quote:I've been happy to spend the last few weeks offering a helping hand while taking what felt like a trip around the world. Last week we were in Phoenix and helped out with building homes for Habitat for Humanity through Coke and Home Depot. That was a good deal.

Then we headed to Las Vegas, where GameStop was introducing a bunch of games at an annual convention for their store managers, before hitting Omaha, for a Home Depot appearance. Things got crazy leaving Vegas because our plane broke down, and it was a complete mess. But we managed to fly commercially through Denver to Omaha and then through Chicago on the way home.

We missed a connecting flight in Chicago and didn't get back until the Charlotte airport until 2 in the morning. We were leaving the airport, came around the corner and found a car flipped over. I said, "Oh shoot!" I ran to the scene with PR rep Heather Kincel and business manager Joey Civali, and we found three people trapped inside. We were very nervous because the car was in the middle of the road in a blind corner. If someone had come around the corner not paying attention while texting or something, the people in the car probably would be dead. So we made sure we got them out.

I called 911 and said, "Hey, there's a car on its lid!" while Civali pulled off the windshield to get them out. They said someone had tried to run them off the road trying to make a last-minute pass. I know what that's like. They were OK, though, and it made everything we went through (including waking up at four in the morning to catch our flight to Denver) worthwhile. That was our good deed for the day.

I got to participate in another one Thursday in Richmond. I helped build a racing-themed playground at Chimborazo Park in the east end of the city. There were volunteers from Home Depot, the city parks and recreation department, Joe Gibbs Racing and KaBOOM!, a nonprofit organization. This was a cool sponsor appearance, the kind I'd rather do than signing autographs. There were so many Home Depot associates who came to work on their off day. It's really cool to see how many people want to help and be involved in that.

On Wednesday, I finished a disappointing 20th in the Gillette Young Guns Prelude to the Dream at Eldora Speedway. I had a pretty good car and was running third in a heat race when I scraped the fence with the right rear. I didn't think of it much, but apparently I caught the fence and ripped the whole spoiler off the back. There are no mirrors so I couldn't tell. I barely turned the wheel, and this thing snapped around on me and backed in the fence. That car was killed. I got in the backup car, started from the rear and had passed about half the field when I got caught in an accident. I said, "Oh well, there goes car No. 2." That was the end of my night. It wasn't very fun, but it was a little funny.

The first car was owned by Chris Wall, who's called "The Intimigator" because he worked on an alligator farmer in Louisiana. He was a really cool guy, and "The Intimigator" understood that this happens to the best of them.

It's a charity event, so I guess I wrecked two cars for a good cause. But hey, I was fast! I just had other issues. I did OK.

The Atlanta race was frustrating. I started 34th and moved up all the way to eighth, but then we struggled with the tires. One set would make the handling of the No. 20 Toyota really tight, and another set was really loose. I finally spun with about 55 laps remaining. There was just a lot of inconsistency with the tire. You saw a lot of cars doing it: Tony Stewart, Kyle Busch… I could name eight to 10 cars with the same problem.

I finished 22nd, but I still felt as if I learned something. A lot of these races lately, I've noticed if you're smart and stay on the lead lap, you can get the car good at the end and, get a top-10 finish. You've got to be there at the end. The first part of the race is getting ready, but at go time, you've got to be going and not going backward. The races are so long. You're running 15th-18th and all of a sudden, you're passing the guy who was leading the race. Holy cow. What happened?

Things change so much throughout the race. If you're junk, don't get too worked up like, "We're screwed." You can still have a top 10 finish after a junk start. You run enough races and you see that. I was never one to give up, but to see the trend, especially last week, of guys going forward and backward. Holy cow, it's weird.

As far as the Chase contenders on Saturday night, I'm going to race the same way I always do. I race everyone pretty clean. You don't want to screw someone up and hurt the chances of someone getting in the Chase. Next year it could be me. You want to be smart with that, as long as you're on your A game and don't do something stupid. You can't roll over and die. We're all out here running for the same trophy. They've just got a little extra stuff.
09-14-2009, 06:08 PM
derekmcc
True Joey Logano Fan


Posts: 608

Joined: Sep 2008
Reputation: 0
RE: Logano crashes for a good cause in week of good deeds
Thanks
---
http://www.kkracingcollectibles.com/

Take a look at my custom Diecasts (Link Below)

http://public.fotki.com/derekmcc/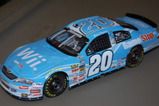 09-22-2009, 02:38 AM
RE: Logano crashes for a good cause in week of good deeds
Joey is so nice and seems to be doing well with the Home Depot projects
---
09-22-2009, 08:32 PM
Priyanka
Logano, Edwards & Kahne Fan


Posts: 1,241

Joined: Feb 2009
Reputation: 5
RE: Logano crashes for a good cause in week of good deeds
I was actually reading about this a while ago on NASCAR.com.
Such a good article :]