06-18-2009, 03:41 AM
Interesting Statisics
Here are a few drivers career top 10 percentages. The stat is for the percentage of time each driver has finished in the top 10 in there career. The leader of this list is not necessarly the highest overall just the highest out of the ones i searched for via racing reference website.


1.David Pearson 64
2.Dale Earnhardt 63
3.Jeff Gordon 62
4.Jimmie Johnson 61
5.Tony Stewart 59
6.Cale Yarborough 57
7.Mark Martin 55
8.Benny Parsons 53
9.Rusty Wallace 49
10.Matt Kenseth 49
11.Darrell Waltrip 48
12.Richard Petty 47
13.Kyle Busch 46
14.Harry Gant 44
15.Terry Labonte 42
16.Dale Earnhardt jr 41
17.Kurt Busch 40
18.Tim Richmond 40
19.Bill Elliott 40
20.Alan Kulwicki 36
---
06-18-2009, 11:27 AM
rawrgoeskayla
Hamlin & Logano Fan


Posts: 836

Joined: Feb 2009
Reputation: 0
RE: Interesting Statisics
sweet, thats pretty interesting.
06-18-2009, 05:19 PM
derekmcc
True Joey Logano Fan


Posts: 608

Joined: Sep 2008
Reputation: 0
RE: Interesting Statisics
That's Cool stuff!
---
http://www.kkracingcollectibles.com/

Take a look at my custom Diecasts (Link Below)

http://public.fotki.com/derekmcc/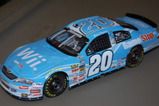 06-25-2009, 05:51 AM
RE: Interesting Statisics
It tells you just how tough the sprint cup series is when legendary drivers and former champions only get top 10's 40 to 50 percent of the time. In stick and ball sports a 50 percent win loss record usually doesn't put you anywhere near the play offs but with Nascar's 43 car fields full of the best drivers in the world, it's a different story.
---