03-29-2009, 11:20 PM
Hiya
I'm an announcer at Lee USA Speedway and for OLRtv, RLMtv, and High Speed Radio (I am co-owner of HSR) and I'm from New England (New Hampshire).

I started my announcing in karting and I hold those that started racing in karting in very high regard. Joey came straight from the New England karting scene where another of my favorites (Jerry Nadeau) came from, in fact both from CT.

I like Joey's style, his confidence, and the fact that he's still a down to earth kind of guy even after the big contract from JGR.

GO GET EM JOEY!

BTW, I used to work for Home Depot (despise the place now and only shop at Lowes) and I used to be forced to wear Tony Stewart gear at work. I liked Smoke until I watched him refuse to sign an autograph for a kid because he was wearing a Gordon shirt (my other favorite driver... say what you want about him as a "man" but that little bugger can drive).

I'm starting to come around on Stewart again, he's been impressive.

Oh,. and I have yet to watch a complete race in Cup. The darn things are just too long. Give me a local short track event any day and I'll watch Cup highlights on SPED (not a typo) Channel all week.
03-30-2009, 12:00 AM
loganoWins
Joey Logano Fan


Posts: 82

Joined: Aug 2008
Reputation: 0
RE: Hiya
welcome
03-30-2009, 12:34 AM
Jean
Administrator


Posts: 3,967

Joined: Aug 2008
Reputation: 15
RE: Hiya
Hi Deryl, I was in a race once where RLMtv broadcasted the race, that's awesome that you are an announcer. It was a long time ago, it was in 2007. But I don't think it was you that covered the race.
03-30-2009, 01:05 AM
(This post was last modified: 03-30-2009 01:05 AM by DerylMorley.)
RE: Hiya
We have several broadcasters that work with RLMtv and OLRtv, however I cover the majority of the races that are held on both sites.
If it was good, it was me. If it was bad it was someone else.
03-30-2009, 07:35 AM
derekmcc
True Joey Logano Fan


Posts: 608

Joined: Sep 2008
Reputation: 0
RE: Hiya
Welcome Aboard Deryl !!
---
http://www.kkracingcollectibles.com/

Take a look at my custom Diecasts (Link Below)

http://public.fotki.com/derekmcc/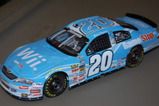 03-30-2009, 09:01 AM
rawrgoeskayla
Hamlin & Logano Fan


Posts: 836

Joined: Feb 2009
Reputation: 0
RE: Hiya
welcome!
03-31-2009, 10:47 PM
Priyanka
Logano, Edwards & Kahne Fan


Posts: 1,241

Joined: Feb 2009
Reputation: 5
RE: Hiya
welcome :]
04-01-2009, 08:13 AM
Tiffanie
Joey Logano Fan


Posts: 64

Joined: Feb 2009
Reputation: 0
RE: Hiya
Welcome
---

04-01-2009, 09:04 AM
RE: Hiya
welcome
---