01-26-2009, 01:38 PM
Hi! I'm a new member!
[/font]
[/size][/color] Hi! I'm a Joey Logano fan obviously. I actually recently became one. I watched a Nationwide race last year saw Joey on there and thought he was AWESOME!
I started watching nascar when i was 13 and fell in love with it. I hate to say that I have never been to a race. I'm hoping i get to go to Talladega this year and then not only well i have gone to Talladega but that'll have been my first race. I'm still in school and want to be a journalist and I have no idea where my life well go from there but I'm going to enjoy the ride.
[/b]
01-26-2009, 02:46 PM
RE: Hi! I'm a new member!
welcome to the board
---
01-26-2009, 03:51 PM
derekmcc
True Joey Logano Fan


Posts: 608

Joined: Sep 2008
Reputation: 0
RE: Hi! I'm a new member!
Welcome Aboard!
---
http://www.kkracingcollectibles.com/

Take a look at my custom Diecasts (Link Below)

http://public.fotki.com/derekmcc/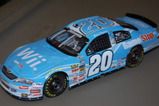 01-26-2009, 05:16 PM
Jean
Administrator


Posts: 3,967

Joined: Aug 2008
Reputation: 15
RE: Hi! I'm a new member!
Hey nascarchick13! Glad to hear you are a joey fan, I hope you enjoy he forum! I have never been to Talladega, but I would imagine that it would be a great race to attend for the first time. Or even Bristol.