01-26-2009, 08:27 PM
(This post was last modified: 01-26-2009 08:28 PM by JayLovex.)
JayLovex
Member


Posts: 30

Joined: Jan 2009
Reputation: 0
Hey everyone!
Hey you guys! What's up? My name is Julianna. I'm eighteen years old (just twelve days older than Joey!). I live in California, not too far from Irwindale (which has some of the best racing I've ever seen). I've been watching NASCAR since roughly the age of five; I went to my first race when I was eight. Just recently got back into it at the end of the '07 season though. I've been a Joey Logano fan since the 2007 NASCAR Toyota All-Star Showdown. Unfortunately, I was not there. After his win, I decided to do a little research on him and I found that Joey's been ruling the racetrack ever since he was a little kid! Now, that's what I call impressive. Anyway, just wanted to stop by and introduce myself.
Here's to Joey and to a rockin' 2009 season!
01-26-2009, 08:46 PM
Jean
Administrator


Posts: 3,967

Joined: Aug 2008
Reputation: 15
RE: Hey everyone!
Hey Julianna, It's great to have you here! I too have been watching racing every since I was a little youngin.
01-26-2009, 08:52 PM
derekmcc
True Joey Logano Fan


Posts: 608

Joined: Sep 2008
Reputation: 0
RE: Hey everyone!
Welcome Aboard Julianna!
---
http://www.kkracingcollectibles.com/

Take a look at my custom Diecasts (Link Below)

http://public.fotki.com/derekmcc/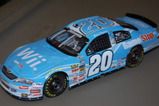 01-27-2009, 08:05 AM
RE: Hey everyone!
welcome to the board
---