01-23-2009, 08:14 PM
LoganoFan
Member


Posts: 7

Joined: Jan 2009
Reputation: 0
Hello Logano Fans!
Hello all,

My name is Christopher, and I have actually been a Denny Hamlin Fan since he raced at SOuthside Speedway, in Chesterfield, VA. My Dad had done business with his dad, and we have wathched him progress up through the ranks, and have been cheering for him all of the way. Since then, I have been an avid supporter of all of the Joe Gibbs Drivers, and begun following Joey as well. I have high hopes that he will excel and have a successful season in the #20 Home Depot Toyota!
01-23-2009, 08:28 PM
Jean
Administrator


Posts: 3,967

Joined: Aug 2008
Reputation: 15
RE: Hello Logano Fans!
Hey Christopher, it's great to have you onboard! You'll be happy to know that there are other Denny Hamlin fans here too! That's great to hear that you have been an early supporter of Denny.
Yeah it would be awesome if Joe Gibbs Racing and all of it's drivers excel next season. I am crossing my fingers hoping all 3 drivers make it into the chase!
01-23-2009, 08:42 PM
derekmcc
True Joey Logano Fan


Posts: 608

Joined: Sep 2008
Reputation: 0
RE: Hello Logano Fans!
welcome aboard!
---
http://www.kkracingcollectibles.com/

Take a look at my custom Diecasts (Link Below)

http://public.fotki.com/derekmcc/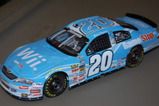 01-24-2009, 09:47 AM
RE: Hello Logano Fans!
welcome to the board
---