01-20-2009, 07:59 PM
Cody20
Member


Posts: 20

Joined: Jan 2009
Reputation: 0
Hello Everyone
Hey Yall,
My Name is Cody Higginbotham. I'm 18 Years Old and I'm from Guntersville, Alabama. I've been a huge Nascar Fan since 1998. I'm also a huge Joey Logano Fan, I talk to Joey and his Sister all the time, I met Joey at Talladega when he was driving for Venturini Motorsports, I was a guest with them. I also do Message Boards, I do the Official Message Board for Brad Keselowski and Danny O Quinn Jr. I'm also gonna be doing JD Motorsports The Team Danny will be driving for this year and Ware Racing as well this year. I know I'm 18 but I have been doing Message Board's since 2004, I have also been with drivers like David Gilliland and Burney Lamar as well doing there official message boards. I'm defently glad I found an awesome home for Joey fans to come hang out and have fun. I will defently be on here on a regular basis and I can help out with anything yall need since I am a Message Board Admin Myself. God Bless Yall and I look forward to being a regular on here and helping out anyway I can.

Cody Higginbotham
01-20-2009, 08:18 PM
derekmcc
True Joey Logano Fan


Posts: 608

Joined: Sep 2008
Reputation: 0
RE: Hello Everyone
Welcome aboard!
---
http://www.kkracingcollectibles.com/

Take a look at my custom Diecasts (Link Below)

http://public.fotki.com/derekmcc/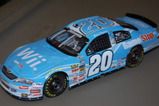 01-20-2009, 08:45 PM
Jean
Administrator


Posts: 3,967

Joined: Aug 2008
Reputation: 15
RE: Hello Everyone
Hey Cody, glad to have you onboard. And it's great to hear of your experience, and that you are going to be coming here often
, that makes me very happy
If you ever get to talk to Joey Logano, be sure to tell him of this cool website
and see what he thinks, hehe! I've been dying to know what he thinks.
I wonder how you found us, either way, I am glad you did!
01-20-2009, 09:30 PM
RE: Hello Everyone
welcome to the board cody
---
01-20-2009, 09:35 PM
Cody20
Member


Posts: 20

Joined: Jan 2009
Reputation: 0
RE: Hello Everyone
Thanks for the Warm Welcome. I do talk to Danielle several times a week, I will defently tell her about the website for sure. Yeah, If yall need another MOD I can help out for sure. I found this board on your signature on Motorsports Lounge Thank Goodness.