01-01-2009, 02:14 AM
Jean
Administrator


Posts: 3,967

Joined: Aug 2008
Reputation: 15
Happy new Year
Happy New year everyone! Maybe 2009 bring you the best!
01-01-2009, 07:02 AM
derekmcc
True Joey Logano Fan


Posts: 608

Joined: Sep 2008
Reputation: 0
RE: Happy new Year
Same too you
---
http://www.kkracingcollectibles.com/

Take a look at my custom Diecasts (Link Below)

http://public.fotki.com/derekmcc/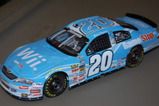 01-02-2009, 12:45 AM
Jean
Administrator


Posts: 3,967

Joined: Aug 2008
Reputation: 15
RE: Happy new Year
(01-01-2009 10:29 AM)

#11 Denny Hamlin Fan Wrote: Back atcha guys!

36 days to Daytona!
36 days? wow! Time flies!!
Pretty soon we will be watching Joey and others go around the track
If you could could leave a comment on my new blog post, that would be awesome, I would really appreciate it!
http://www.gojoeylogano.com/news/happy-new-year.html