Gibbs gets 'out of control,' flips sponsor during race
01-26-2009, 02:46 PM
Gibbs gets 'out of control,' flips sponsor during race
Gibbs gets 'out of control,' flips sponsor during race
By NASCAR.COM
January 26, 2009
01:38 PM EST
It's not often that Joe Gibbs loses control, but he did Friday night at Hampton Coliseum in Virginia.
Considered a cool customer not only during his Hall of Fame coaching career with the NFL's Washington Redskins but also atop the pit box, Gibbs faced off with Interstate Batteries chairman Norm Miller in a match race during intermission at Arena Racing USA's Hampton Roads.
Gibbs donned one of Tony Stewart's old driver suits and humbly admitted, "I've accused Tony of being a little overweight ... I had five people trying to zip it up" over his midsection.
Miller was on the pole and fended off Gibbs for five laps. However, on Lap 6 Gibbs got loose coming out of Turn 3 and literally drove the No. 20 Home Depot car beneath Miller's No. 18 Interstate Batteries ride entering Turn 4. The end result: Miller's car barrel-rolled as both cars came to a stop.
Gibbs, who was declared the winner, did exactly what his wife, Pat, warned him not to do: "Do not wreck Norm; you'll cost us a good sponsorship!" Gibbs recalled.
"I was out of control," Gibbs said after the race. "I got up there a couple of times and I thought, 'I've got to get in [to the corner] deeper.' "
Said Miller: "He got in deeper. He got behind me, on top of me and under me!"
http://www.nascar.com/2009/news/headline...index.html
---
01-26-2009, 04:04 PM
derekmcc
True Joey Logano Fan


Posts: 608

Joined: Sep 2008
Reputation: 0
RE: Gibbs gets 'out of control,' flips sponsor during race
That's Cool!!
---
http://www.kkracingcollectibles.com/

Take a look at my custom Diecasts (Link Below)

http://public.fotki.com/derekmcc/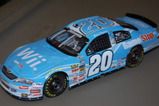 01-26-2009, 05:25 PM
Jean
Administrator


Posts: 3,967

Joined: Aug 2008
Reputation: 15
RE: Gibbs gets 'out of control,' flips sponsor during race
I had seen a youtube video on this, if anyone is interested I'll try to find it again